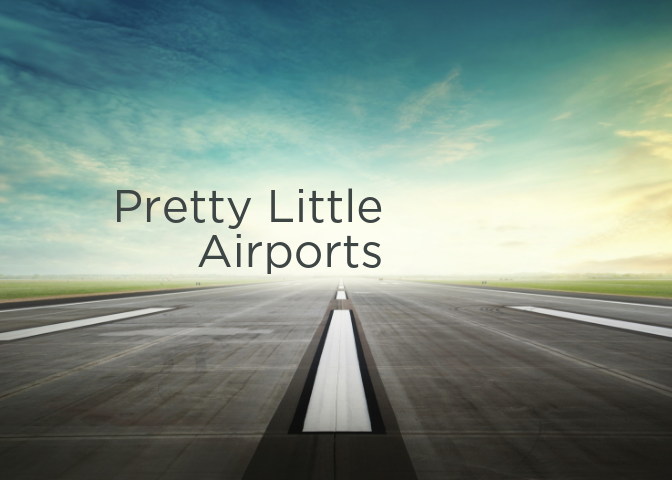 At JetSmarter we are dedicated to providing you with a safe, hassle free, enjoyable travel experience while getting better value every time you fly. Part of the way we accomplish that mission is by working with the best, most reliable private jet charter operators in the business. We have had a long relationship with XOJET. XOJET is one of the largest private aviation companies in North America and is one of the most widely respected operators in private aviation.
Recently, Brad Stewart, XOJET's President and CEO, discussed his 7 favorite airports to fly in or out of by private jet. As published in XOJET's online magazine, Stewart championed the charm of these small iconic airports.
"There is a real lost-in-time feel to these small airports," said Stewart. "In Napa Valley you look down at a narrow runway cut into a hilltop—so simple, and to me truly beautiful. These remote places are part of what makes private aviation so special."
With that in mind, here are 7 of the most iconic small airports to reach by private jet.
1. Aspen-Pitkin County Airport (ASE)
Located only about 200 miles from the nearest major airport in Denver, Aspen-Pitkin County Airport's convenience factor is only outdone by its magnificent setting some 8,000 feet above sea level in Colorado's central Rocky Mountains. Snow-capped, summer green, or speckled with fall foliage, its bowl-like surroundings allow private jets to fly in from the west and descend roughly 2,400 feet in one minute before touching down in the heart of one of the world's most iconic mountain resorts.
2. Grand Canyon National Park Airport, Arizona (GCN)
Flying into GCN on a private jet is as good as taking one of the many aerial tours of the Canyon. During your decent you will be able to experience spectacular views of Arizona's otherworldly red-rock formations, then touchdown on a 9,000-foot runway just two miles from the park entrance and seven miles from South Rim, your gateway into all things Grand Canyon.
3. Lake Tahoe Airport, California (TVL)
As you descend into Lake Tahoe Airport, expect to be met by spectacular views of the snow-capped peaks and deep-blue waters of the incomparable landscapes of the Sierra Nevadas and Lake Tahoe. A single runway, stretching 8,500 feet at an elevation of 6,269 feet, runs perpendicular to the lake itself and brings travelers within a 10-minute drive of South Lake Tahoe.
4. Telluride Regional Airport, Colorado (TEX)
Much like its Aspen counterpart, Telluride's airport saves travelers hours of driving time with a picturesque alpine setting just minutes from Colorado's top ski resorts! Fly in above Colorado's dramatic San Miguel Mountains and touch down on one of America's highest public airstrips, registered at 9,078 feet in elevation. A 7,000-foot runway, nestled within a spectacular box canyon, boasts majestic alpine scenery all year round.
5. Nice Côte D'Azur International Airport, France (NCE)
Nothing could be nicer than flying into France's Nice Côte D'Azur International Airport. Framed by the deep blue waters of the Mediterranean and backed by the city's historic architecture, NCE captivates travelers with a 9,700-foot runway set on its own peninsula. Located just above sea level, the airport is positioned between two beautiful pebble beaches, and is only steps away from the world-famous waterfront promenade.
6. Lihue Airport, Hawaii (LIH)
LIH is on the island of Kauai, which is known as the Garden Island, and as you approach you will easily see why! As you descend into LIH, verdant mountains and white-sand beaches give way to two 6,500-foot runways on the southeast coast. The main port of entry for the island, Lihue Airport is incredibly scenic both in the air—you may catch a glimpse of Waimea Canyon on your way in—and from the ground with a largely un-walled, open-air terminal offering views of the lush landscape and the Pacific Ocean.
7. Bangor International Airport, Maine (BGR)
Maine's quaint city of Bangor, located on the edge of Penobscot River, is home to the first major airport encountered by trans-Atlantic flights (and a common stop for fuel and customs), but the Queen City is also a spectacular historic destination all on its own. Fly over the northern Appalachian Mountains when you approach from the west or lush landscapes and coastal waterways from the east, before touching down on a single, 11,440-foot runway at BGR, the last iconic small airport on our list!
JetSmarter Enhances Your Private Travel Experience Regardless of the Airport
The JetSmarter app can get to any airport large or small!
Simply put, there is no quicker, or more hassle-free way to fly private, than to search and book a flight using the JetSmarter app. And right now, our crowdfunding option makes booking and flying on a private jet as easy as one, two, three!
Step 1
Search for your flight. You can initiate a flight or join an existing pending flight RISK FREE.
Step 2
Wait for others to join and once your flight is confirmed, only then will you be charged.
Step 3
Receive your itinerary and enjoy your hassle-free private travel experience.
Here is the best part. You risk nothing by creating or joining a crowdfunded flight prior to confirmation. It is free to create, it's free to join, and it's free to cancel anytime up until confirmation.
If you would like more information about this post, or any of our programs, please feel free to contact our team at +1-888-80-FLY-XO.